This CFX signature project, completed eight months ahead of schedule, improves safety and traffic flow around the north entrance to the Orlando International Airport (OIA). The project added an additional travel lane in each direction of SR 528 between Conway Road and Goldenrod Road and seven new fly-over bridges at the SR 528/SR 436 interchange to provide smoother, uninterrupted access to and from Orlando International Airport.
Before – May 2020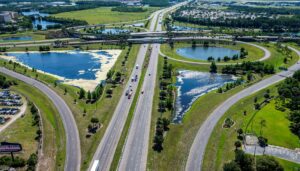 After – June 2022
Installation has begun on the project's bold landscaping plan. A staggered tree canopy and lush native plants will provide a welcoming gateway to Central Florida for the nearly 75 million visitors coming through OIA.
Click here for more detailed information on the SR 528/436 interchange project.
Click here for an informational video of this interchange project.
Click here for the project Fact Sheet.
Construction start: August 2020.
Construction completion: July 2022. (Originally scheduled February 2023.)
Landscaping start: July 2022.
Anticipated landscaping completion: October 2022.