Local construction crews are out on our roadways every day. To keep everyone safe, the Central Florida Expressway Authority urges all drivers to pay attention to signs and traffic cones or barricades when you approach a work zone. Stay alert and take turns merging to keep everyone moving and reduce the risk of crashes, injuries and fatalities.
Remember, everyone plays a role in work zone safety – Smart drivers. Safe workers.
Did You Know?
A CFX Road Ranger describes the "hot" side that all roadway personnel work hard to avoid. Learn more here >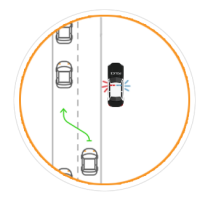 The MOVE OVER law:
Whether its law enforcement or emergency personnel assisting other drivers, move over to give them space to work. It's Florida law and the right thing to do.
When driving in or around a work zone, follow these quick tips to stay safe in a work zone:
Take turns merging. When two travel lanes are merging into one and traffic slows to a crawl, use the zipper merge to keep everyone moving. Learn how.
Slow and steady. Often times, speed limits in a work zone are lower than on the regular stretch of road. Keeping an eye out for the posted limit and easing off the gas can help you stay in control.
Keep an eye out. When roadway workers are present — and especially when they are close to traffic — keeping tabs on their whereabouts can keep you alert and decrease any chances of injury. Expect the unexpected in work zones.
Slide to the left (or right). When emergency, law enforcement, or utility vehicles are stopped on the road, your best bet is to move over when possible or slow down (plus, it's the law). Avoid a ticket and an injury — it's a two-for-one!
See more tips: View the 2021 NWZAW Fact Sheet or head over to DriveSmartFlorida.org to put your driving skills to the test and learn some friendly CFX tips.
For more information on the national event NWZAW and all of the ways you can participate, visit nwzaw.org.