Executive Director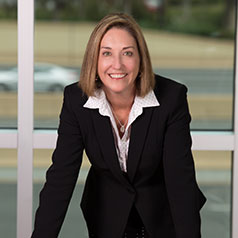 Laura Kelley, Executive Director of the Central Florida Expressway Authority (CFX), has more than 30 years of experience in executive transportation management.
Under her leadership, CFX secured competitive federal financing for the Wekiva Parkway, which will advance the project's completion by two years. Ms. Kelley also helped develop CFX's commuter relief program, offering discounts to drivers who choose the expressways.
Previously, Ms. Kelley served as executive director of the Florida Transportation Commission and financial manager for the Florida Department of Transportation's $36 billion work program. She is a graduate of the Florida State University College of Business. She enjoys spending time outdoors with her family and is an avid runner.
Read More About Laura Kelley
Governing Board
The Central Florida Expressway Authority's Governing Board oversees the agency's policies and guides its direction. The board consists of 10, non-paid members from public and private sectors.
Meetings are open to the public. To make a public comment at the Board Meeting, please fill out a Public Comment Form.
Board Meetings are held on the second Thursday of each month at 9 a.m.
Central Florida Expressway Authority,
Administration and Operations Building
4974 ORL Tower Road
Orlando, Florida 32807
Ph: (407) 690-5000
Click here to watch video of previous meetings.