Project Development & Environment (PD&E) Study:
Southport Connector Expressway PD&E Study
About the Southport Connector Expressway Project Development and Environment (PD&E) Study
In September 2020, the Central Florida Expressway Authority (CFX) began a Project Development and Environment (PD&E) Study of the proposed Southport Connector Expressway. The proposed east-west divided four-lane tolled expressway would connect Poinciana Parkway with Florida's Turnpike.
The proposed 15-mile-long expressway would extend from Poinciana Parkway on the west to Florida's Turnpike on the east with a possible extension to Canoe Creek Road. Using the results of the previous Concept, Feasibility, and Mobility Study as a foundation, several alignments within the corridor are being developed and evaluated to identify a preferred alternative.
In March 2021, an alignment crossing Lake Tohopekaliga was added following input from CFX's Environmental Stewardship Committee and the study's Environmental Advisory Group. The study area boundary was expanded to consider this additional alignment. After substantial evaluation, the study alternative that would have crossed Lake Toho was eliminated due to having far greater impacts, failing to meet the project's purpose and need, and being substantially more expensive than the other alternatives being considered.
All factors related to the location and design of the proposed expressway are being considered, including transportation needs, financial viability, social and environmental impacts, economic factors, engineering analysis, and right-of-way requirements.
The goals of the Southport Connector are to provide a new limited-access expressway within the greater Poinciana area and create connectivity to interregional transportation systems such as Florida's Turnpike and, through future planned expressways, Interstate-4. The expressway would also relieve congestion on local roads, provide for new multimodal opportunities, enhance evacuation and emergency efficiency, and support economic development.
Presentations to CFX Environmental Stewardship Committee: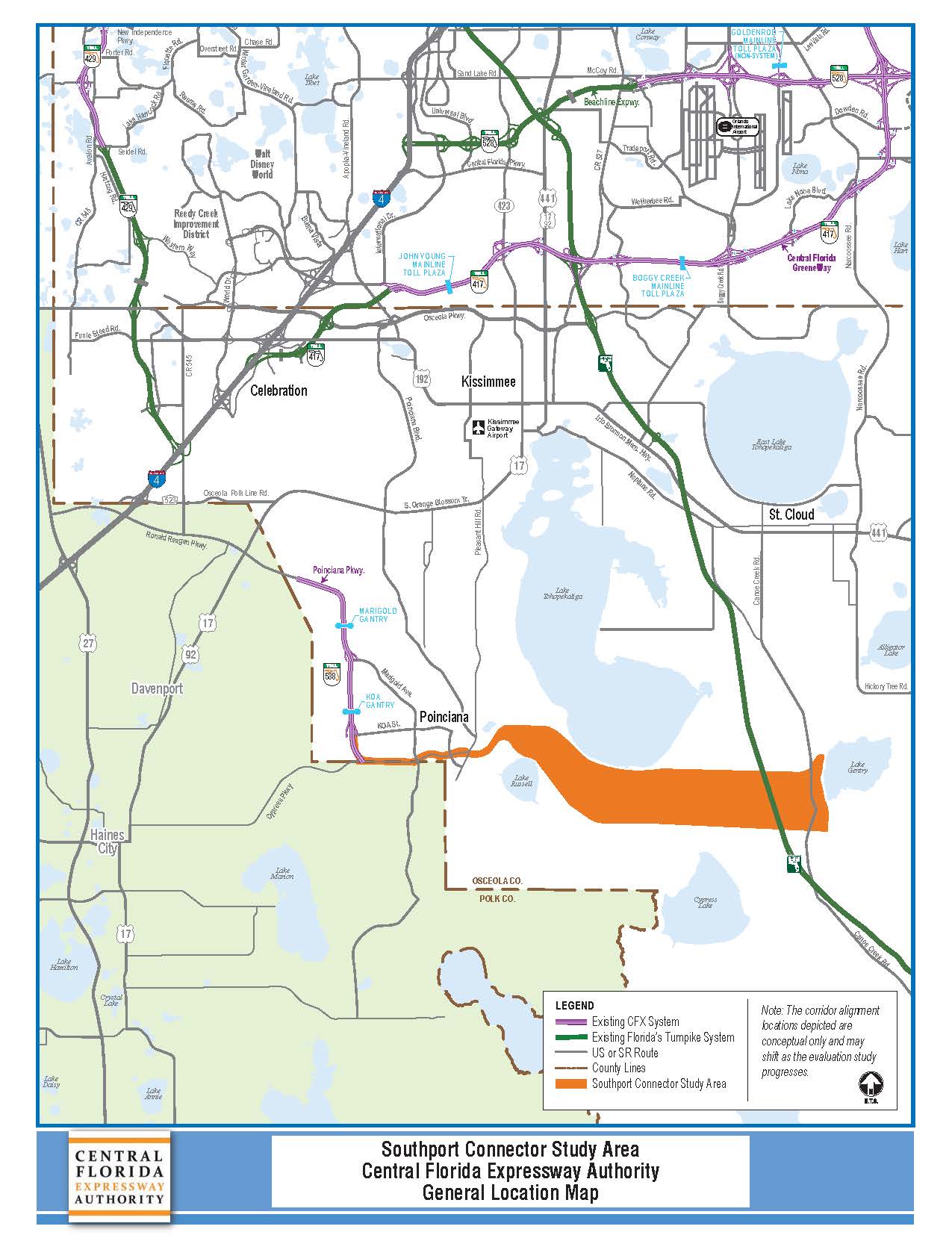 About Public Involvement
Public involvement and interagency coordination is an integral part of the PD&E study process.  Opportunities for public participation will be provided during the study including  a public workshop and a public hearing.
Additional Information
This is a Project Development and Environment (PD&E) study which is an initial phase of determining right-of-way acquisition. Property owners near a proposed transportation project often want to know an agency's process for buying needed private property. Click here for the Central Florida Expressway Authority's policy on right-of-way acquisition.
Comment Form
To submit a question or comment, please complete and submit the form below.
"*" indicates required fields