ABOUT
Life's Better with E-PASS
Wondering about the difference between E-PASS and SunPass? Check out the FAQs here.
Which E-PASS is right for you?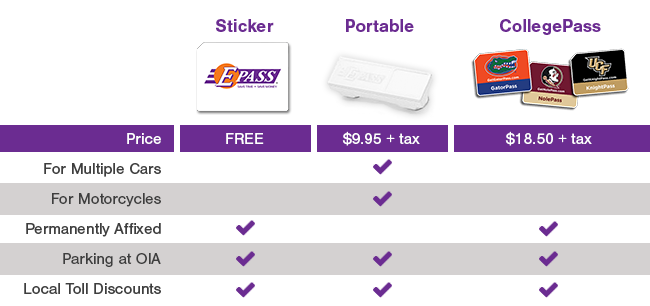 Get E-PASS Now
Ready to sign up for E-PASS? Choose one of 4 ways:
2. Over the phone – (407) 823-7277 or (800) 353-7277

762 S. Goldenrod Rd., Orlando, FL 32822 | map it
Hours: M-F 8am-6pm, Sat 9am-1pm

4. Drive-Up Reload Lanes

SR 408 at the Conway toll plaza | map it
SR 417 at the John Young Parkway toll plaza | map it
SR 429 at the Forest Lake toll plaza | map it
Hours: 7 days a week, 6am-8pm
Debit/credit card, check and cash accepted. Learn more.
What do I need to open an account?

Don't forget, with E-PASS, there are no monthly account fees, your toll credit never expires, and only E-PASS customers get exclusive local toll discounts. Finally, if you're getting your E-PASS toll pass online or by phone, expect it to be mailed within five to seven business days.
If you have a specific question about E-PASS, send an email to: info@CFXway.com or call (407) 823-7277. You can also visit our Frequently Asked Questions section.
Now offering College E-PASS
Drive with pride with a customized Gator, Knight or Seminole toll sticker mounted on your car windshield. Visit CollegeEpass.com for more information.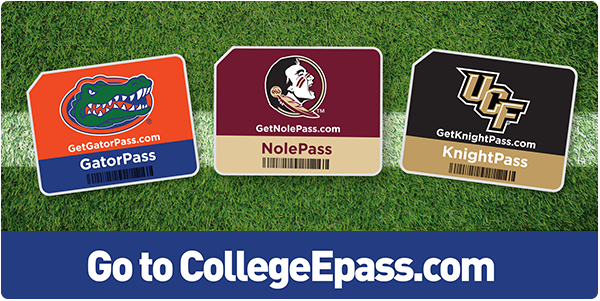 E-PASS Account Login
Manage your account information, check your account balance, view statements and more.
Activate E-PASS
Activate an E-PASS sticker, portable, or CollegePass that you received at an event or E-PASS function.
E-PASS Service Center
Eastside Service Center
762 S. Goldenrod Rd.
Orlando, FL 32822
Get Directions
Phone: (407) 823-7277
Email: info@CFXway.com
Hours: 8am-6pm, Mon-Fri
9am-1pm, Sat