ABOUT
Life's Better with E-PASS
Enjoy nonstop travel on all toll roads throughout Florida, Georgia and North Carolina, plus exclusive toll discounts on CFX expressways.
Wondering about the difference between E-PASS and SunPass? Check out the FAQs here.
Which E-PASS is right for you?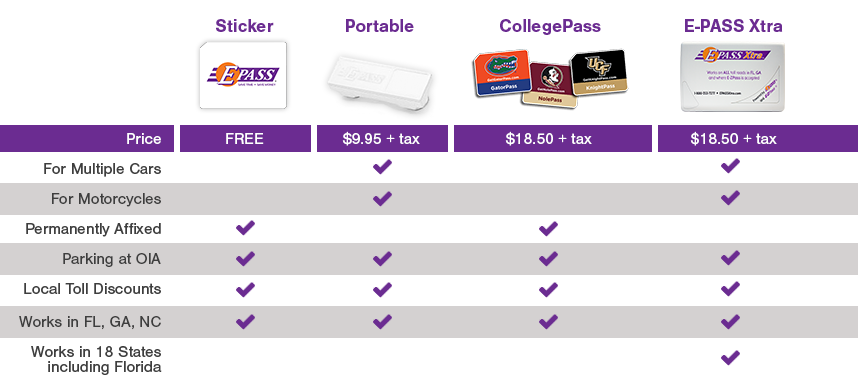 No matter which E-PASS you choose, make sure to properly mount your transponder on your windshield to ensure it works correctly every time you drive through a tolling point.
Once you set up your E-PASS account, make sure your E-PASS transponder is linked to the correct vehicle license plate. For example, if your household has multiple vehicles and transponders, make sure the license plate number of your vehicle matches the transponder in each car. If the transponder and license plate do not match, you could receive a bill, even if you have funds in your E-PASS account.
Moving your E-PASS Portable from one car to another? Every time your transponder changes cars, you must update the vehicle license plate in your account. You can do this easily online or in the E-PASS mobile app.
Get E-PASS Now
Ready to sign up for E-PASS? Choose one of 4 ways:
2. Over the phone – (407) 823-7277 or (800) 353-7277

762 S. Goldenrod Rd., Orlando, FL 32822 | Map it
Hours: M-F 8am-6pm, Sat 9am-1pm

4. Drive-Up Reload Lanes

SR 408 at the Conway toll plaza | Map it
SR 417 at the John Young Parkway toll plaza | Map it
SR 429 at the Forest Lake toll plaza | Map it
Hours: 7 days a week, 6am-8pm
Debit/credit card, check and cash accepted. Learn more.
What do I need to open an account?

Don't forget, with E-PASS, there are no monthly account fees, your toll credit never expires, and only E-PASS customers get exclusive local toll discounts. Finally, if you're getting your E-PASS toll pass online or by phone, expect it to be mailed within five to seven business days.
If you have a specific question about E-PASS, send an email to: info@CFXway.com or call (407) 823-7277. You can also visit our Frequently Asked Questions section.
NEW! E-PASS Xtra – One toll pass that works in 18 states
E-PASS Xtra is the only Florida-based toll transponder that works seamlessly in 18 states, including on all toll roads and most bridges in Florida. With E-PASS Xtra, you'll only have to manage one toll account to enjoy the all the benefits of E-PASS, plus non-stop travel from Florida to Maine and west to Illinois.

Accepted throughout 18 states with one toll account
Works everywhere E-PASS and E-ZPass is accepted
No monthly account fees
Non-replaceable battery will last up to 8 years
Pays for parking at Orlando International Airport
Movable from car to car and works on motorcycles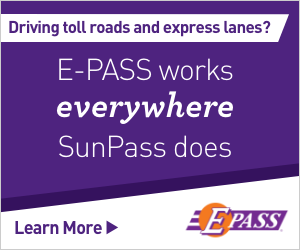 E-PASS Account Login
Manage your account information, check your account balance, view statements and more.
Activate E-PASS
Activate an E-PASS sticker, portable, or CollegePass that you received at an event or E-PASS function.
Install E-PASS
View the installation guide to make sure you properly mount your E-PASS Sticker, Portable or Xtra on your vehicle's windshield.
E-PASS Customer Service
E-PASS Service Center
762 S. Goldenrod Rd.
Orlando, FL 32822 | Map it
Phone: (407) 823-7277
Email: info@CFXway.com
Hours: 8am-6pm, Mon-Fri
9am-1pm, Sat