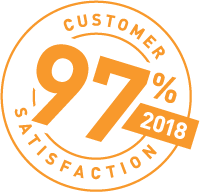 Only E-PASS offers a range of options to fit your wallet and your travel appetite – from the popular free E-PASS sticker to the new E-PASS Xtra for toll travel in 18 states. Best of all, only E-PASS offers
Customer Loyalty Volume Discounts
where you can receive up to a 20% discount each month for frequent travel. With E-PASS, the more you use, the more you can save. Take advantage of these savings – starting today!

E-PASS works on all toll roads, express lanes and most toll bridges in Florida, Georgia and North Carolina. Just look for the E-PASS, SunPass or LeeWay logo as you enter a toll road in Florida.
Also, with E-PASS Xtra – CFX's new electronic toll pass – you'll be able to enjoy the convenience of non-stop travel in 18 states from Florida to Maine and west to Illinois. E-PASS Xtra is fully compatible with E-PASS, SunPass, LeeWay, PeachPass, NC QuickPass, E-ZPass, RiverLink and I-PASS toll systems.
Travel Easier
All E-PASS transponders work in Florida, Georgia, North Carolina and pay for parking at Orlando International Airport
Announcing E-PASS Xtra – one transponder now accepted in 18 states, including Florida
Cut an estimated 30 minutes of travel time per week
Reduce Cost
Save an average of 23% on every toll
No monthly account fees
Account funds never expire
More Options
E-PASS for every car – manage multiple transponders with only one prepaid account
Choose to add funds from the comfort of your car at Reload drive-up service lanes – accepts cash, credit and debit cards
24/7 online account access to review transactions, check balance, generate reports and more.