CFX's Master Plan establishes policies and needs for future operations and capital investment decisions, and also serves as the basis for the agency's Five-Year Work Plan.
The Central Florida Expressway Authority (CFX) Board approved the 2040 Master Plan in May 2016, which serves as CFX's visionary blueprint for system improvements and new projects that best address the mobility needs of Central Florida. It also sets the policy for future operations and capital investment decisions and serves as the basis for CFX's 5-Year Work Plans.
The 2040 Master Plan identified approximately $2 billion of capacity and operational improvements for CFX's expressway system including: additional capacity projects; interchange improvements; and renewal and replacement efforts. These investments are driven by the need to meet existing and anticipated future traffic demands as this region continues to develop and grow.
The 2040 Master Plan is the culmination of a year-long process of community outreach, stakeholder interaction and technical analysis. The public engagement process began in April 2015. The CFX team met with local cities, counties, chambers of commerce and civic groups to define how best to collaborate over the next 25 years. In all, CFX held over 80 meetings, presentations and events that spanned four counties and 26 municipalities. The extensive feedback generated from these meetings was essential to the development of the 2040 Master Plan. CFX is currently in the planning process for the 2045 Master Plan, to learn more or offer your input, click here.
CFX 2040 Master Plan Sets the Course for the Future
The CFX 2040 Master Plan guides the Five Year Work Plans and the 15-Year Capital Improvement Program.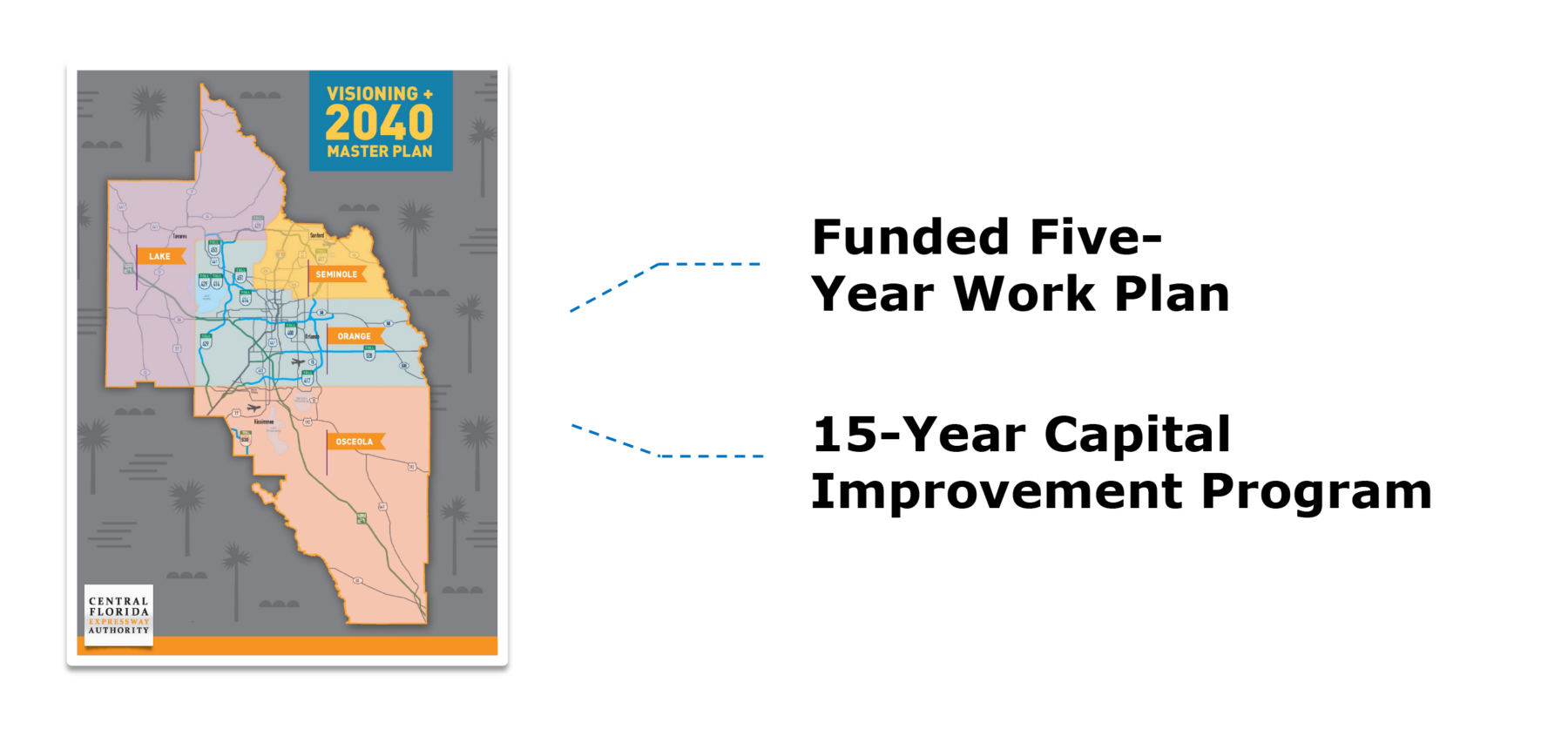 2040 Master Plan Resources
Current Plans
Additional Resources
---
CFX Contact Information