This $270M Road Project Opened New Corridors Of Commerce And Helped Preserve Nature
By Anjali Fluker Associate Managing Editor, Orlando Business Journal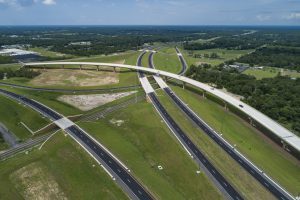 The Central Florida Expressway Authority finally can sit back and enjoy the fruits of its labor on a big section of the $1.6 billion Wekiva Parkway.
The authority — which oversees Central Florida's toll roads — in March celebrated the opening of its fifth major section of the Wekiva Parkway, including two last year and three this year that totaled $270 million worth of work. And though this is only an 11-mile piece of the entire 25-mile parkway, a total of eight sections now are done on the project that will complete the beltway around Central Florida in 2021.
The expressway authority's portions of the parkway were significant steps in completing the 30-year effort by the authority and the Florida Department of Transportation to meet the needs of the fast-growing region while ensuring the area's ecology wouldn't be damaged.
"The opening of the Wekiva Parkway was an incredible achievement," said Joe Berenis, the expressway authority chief of infrastructure. "It has been fascinating to watch this project evolve to meet the needs of one of the fastest growing regions in the nation while also minimizing the environmental impacts of this growth to the Wekiva Basin."
The project involved heavy lifting by the agencies because building the parkway required traversing state-owned, robustly protected lands and wildlife habitat in the Wekiva River Basin. To maintain those protections, the project involved constructing more than 1 mile of wildlife bridges to replace the existing two, small wildlife tunnels; installing wildlife fencing, jump-outs and bat houses; and designing a new, high-profile bridge over the Wekiva River — a designated National Wild and Scenic River and Florida Outstanding Waterway.
Authority and FDOT District 5 officials also worked tirelessly to address concerns of the owners of more than 30,000 properties in Lake, Orange and Seminole counties, as well as the cities of Apopka, Mount Dora and Sanford. The agencies spent nearly 15 years conducting dozens of public meetings and hearings that drew thousands of attendees, along with nearly 1,000 stakeholder meetings, officials' briefings and community presentations to make sure everyone understood what this project would mean for them and the region at large.
The project also created an estimated 36,000 direct and indirect jobs, opened new corridors for economic activity, provided alternative routes into downtown Orlando and other job centers for commuters, and improved public access to the state parks along the corridor with 10 miles of multi-use trails featuring scenic overlooks.
The completion of Central Florida Expressway Authority's sections of the Wekiva Parkway earned top transportation honors in Orlando Business Journal's 2018 Structures Awards.