Concept, Feasibility &
Mobility Studies:
Osceola/Brevard County Connectors
About the Osceola/Brevard County Connectors Concept, Feasibility, and Mobility (CF&M) Study
In March 2020, CFX began a Concept, Feasibility, & Mobility (CF&M) Study of the Osceola/Brevard County Connectors transportation corridors. The study will develop and evaluate transportation alternatives from Osceola County to I-95 in Brevard County. It will determine if the yet-to-be-identified alternatives are feasible from an engineering and environmental standpoint.
The study area is bound by the planned Osceola Parkway Extension expressway to the west and Interstate 95 (I-95) to the east, a distance of approximately 30 miles. The northern study area boundary, starting on the west, extends along the Osceola and Orange County line, then enters Orange County to intersect with SR 520, west of Nova Road. The southern boundary, starting on the west, runs approximately 2.5 miles south of existing Nova Road eastward to Deer Park Road for approximately 15 miles before it turns south to US 192.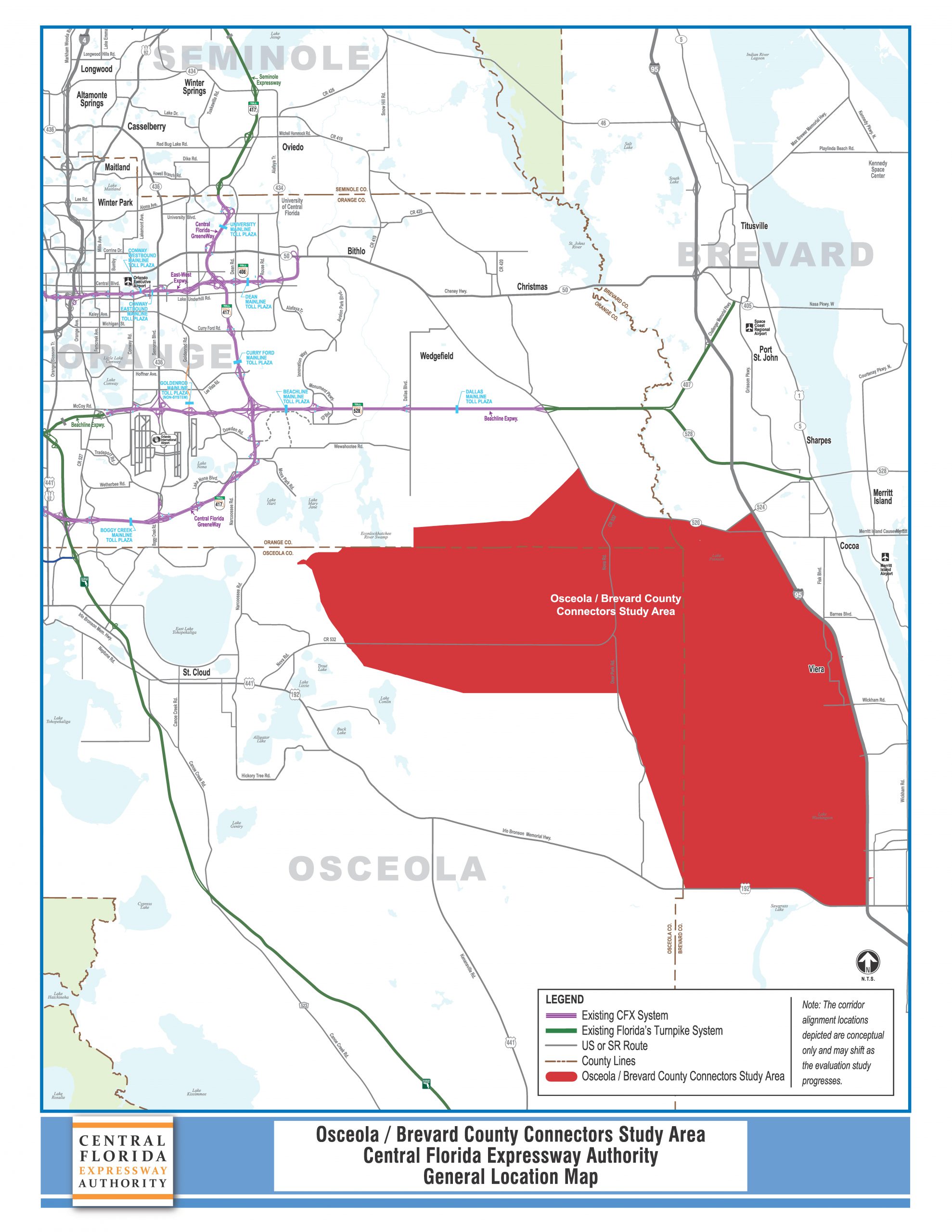 The study, expected to take approximately 18 months, will include the evaluation and documentation of the physical, natural, social, and cultural environment within the corridor and the potential impacts associated with the various mobility alternatives. Transportation demands for the corridor will be determined and a range of transportation mobility options and programs will be developed to adequately meet the future demands.
If a corridor or corridors are found to be feasible as a result of this CF&M study, they could then proceed to a Project Development and Environment (PD&E) Study to further refine and evaluate alternative alignments.
About Public Involvement
Public involvement and interagency coordination will be an integral part of the assessment process, and opportunities for public participation will be provided. CFX anticipates holding public meetings in both Osceola and Brevard counties as part of this study.
This study is a Concept, Feasibility, and Mobility study which does not yet contemplate right-of-way acquisition. However, property owners near a proposed transportation project often want to know an agency's process for buying needed private property. Click here for the Central Florida Expressway Authority's policy on right-of-way acquisition.
Comment Form
To submit a question or comment, please complete and submit the form below.