This 2-mile project includes the capacity improvements of eastbound State Road 528 (Martin B. Andersen Beachline Expressway) from Narcoossee Road to State Road 417 (Central Florida GreeneWay). This portion of the expressway will be expanded from two to three travel lanes. Additional improvements include milling and resurfacing of the roadway, as well as updates to lighting and signage. The project is expected to last approximately 18 months.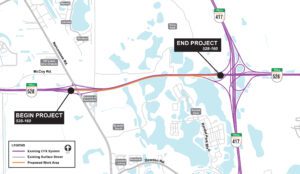 State Road 528 Widening from Narcoossee Road to SR 417 Design Map – Click to Expand
Anticipated start date: early 2022.
Anticipated completion date: late 2023.