In partnership with the City of Orlando, CFX is designing improvements to the SR 408/Tampa Avenue interchange near Camping World Stadium. Planned improvements include:
A new Tampa Avenue ramp to eastbound SR 408
A relocated westbound SR 408 ramp to Carter Street
A new eastbound SR 408 ramp to Long Street
Improved traffic flow and pedestrian safety at Tampa Avenue, especially during events at Camping World Stadium.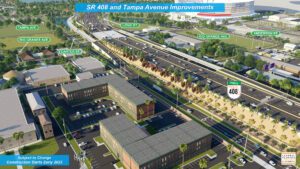 Anticipated design start: summer 2020.
Anticipated design completion: late 2022.