In summer of 2023, the Central Florida Expressway Authority began adding state-of-the-art technology to accommodate Flex Lanes on its system.  The first Flex Lanes will open on State Road 417 and State Road 429, as part of the capacity improvement projects on those roadways.  These lanes will be the first of their kind in the Southeast.
These innovative lanes use a wider median shoulder to allow traffic to continue flowing when an incident causes a closure in one or more of the right lanes. If a serious crash slows traffic, the Flex Lane will open to get traffic safely past the crash at a reduced speed.
The lanes will be controlled by dynamic overhead messaging signs that will show which lanes are open and which lanes are closed. Red X's mean a lane is closed; a green arrow means a lane is open. When a lane is about to open or close, the overhead sign will show a yellow X.
Flex Lanes are expected to launch in Summer of 2024.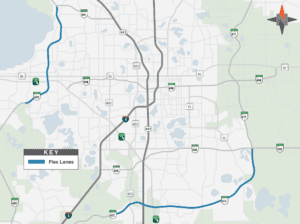 Click here to view the fact sheet.
Click here for the SR 417 Corridor Capacity Improvements Fact Sheet
Click here for the SR 429 Corridor Capacity Improvements Fact Sheet