In February 2021, CFX began widening SR 538/Poinciana Parkway to create a divided four lane expressway from Ronald Reagan Parkway to CR 580/Cypress Parkway. This 7-mile widening is expected to improve traffic flow and operations in the area.
This project includes four proposed sound walls; re-aligning the intersection with CR 580/Cypress Parkway at Solivita Boulevard; building a second bridge over the Reedy Creek Mitigation Bank; building new bridges at Marigold Avenue and KOA street; and two new ramps at the existing interchange with Marigold Avenue.
Click here for the Fact Sheet
Haga clic aquí para la hoja de datos del proyecto
Click here for the Draft Traffic Noise Study Report
Click here for the video and slide presentation for the July 29, 2020 virtual public meeting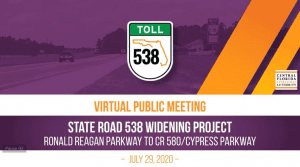 Start of construction: February 2021.
Anticipated completion: Mid 2023.