Will Hawthorne, P.E., Director of Engineering at the Central Florida Expressway Authority (CFX), was named to the Orlando Business Journal's 40 Under 40 Class of 2020. OBJ annually selects young leaders across the region who have made meaningful business and civic contributions to the Central Florida community.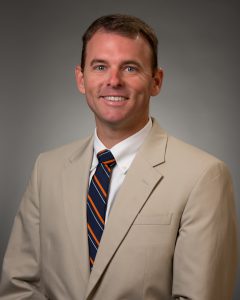 As a sixth generation Central Floridian, Hawthorne is passionate about his contribution as a professional to shape the community's transportation future and as a volunteer to improve the quality of life for area residents.
At CFX, Will has led all engineering aspects of the agency's $2.7 billion five-year work plan which includes about $1 billion in infrastructure improvements to CFX-operated expressways in the coming year. He is a conscientious leader responsible for the planning, design, and engineering for improvements to existing major roadways and for the identification of new transportation corridors within Brevard, Lake, Orange, Osceola, and Seminole counties.
Within his community, Will serves as a leader to advance the missions of charitable and industry organizations including: The Winter Garden Rotary Club, The Junebug Foundation, MetroPlan's Technical Advisory Committee, the Winter Garden Planning and Zoning Board, the Florida Engineering Leadership Institute and other local West Orange County charities.
"Will is an exceptional leader who is positively impacting the community today and for future generations," said Glenn Pressimone, CFX Chief Infrastructure Officer. "Each of us at CFX value his thoughtful and innovative contributions to his work and the region."
In between all his professional and civic responsibilities, he is dedicating his time and energy to his wife and two daughters, and completing his Master of Business Administration degree at UCF.