On Saturday, July 1, 2017, the Arnold Palmer Expressway, located on State Road 408 between Kirkman Road and Clarke Road, became an official part of Florida's State Road network. The legislation, sponsored by Representative Mike Miller (R-Winter Park) and Senator David Simmons (R-Altamonte Springs), and signed into law by Governor Rick Scott on Wednesday June 14 honors one of the greatest sports icons, philanthropists and ambassadors of goodwill in American history.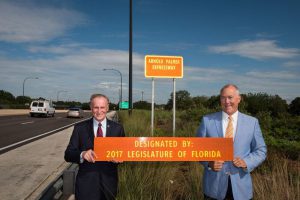 "The naming of a roadway is rare and should only be done for those who have truly made a difference in our community. Arnold Palmer is one of those people," said CFX Board Member and Golf Channel Chief Financial Officer, Jay Madera. "The Central Florida Expressway Authority is honored to have led the charge to rename the western end of State Road 408 in his honor."
Appropriate signs and markers have been placed on State Road 408 to inform motorists that they are traveling on a highway that has been named in memory of legendary golfer and philanthropist, Arnold Palmer.
The Central Florida icon passed away on September 25, 2016.